This page is for: Erasmus Partners – administrators
This page will be updated if there are changes.
Hästekasen PIF
Hästekasen general activities page, long volunteership
The participant application questions
Hästekasen Facebook photos
Participant quotes:
" You are in a place where it is not important what you wear or what kind of phone you have."
" This incredible place, this magical place, it really changed me (I wish to come back with more consciousness, with all my heart)."
" it seemed to me as it was not a month, but half a year I spent in Hastekasen – and it is precious."
" The host created a neverland on the earth – the place both making you more relaxed and stronger at the same time. "
Offering to HOST, not- funded

1) Short one month volunteering. May 2022

2) Short one month volunteering. July 2022

2) Short one month volunteering SEPT 2022, under planning
OPEN for GROUPS with accompanying leader, any profile, incl mix of special needs. Upgraded accommodation. 24 places.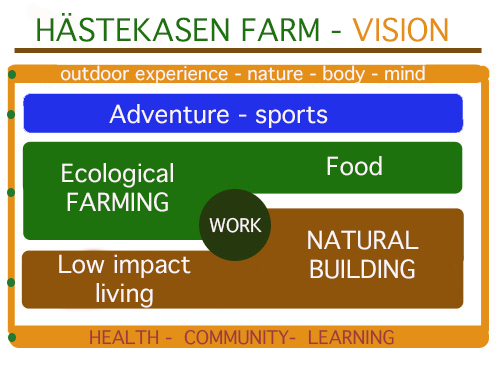 PROFILE "1A" for long term volunteering:
Participant need most of these:
Prior experience of practical handy-man work.
Be able to live simple with less comfort.
Initiative and work ethics (activities is obligatory)
Background of economic problems, or social problems, or school problems, emotional problems e t c (no learning difficulties).
Accepting no-smoking policy and very little meat.
Travel by train.
These are also good:
1. Be able to communicate in english
(if strong in 1-6 this point is not needed)
2. Planning a future life on the country side.
(Well, not really realistic to ask for… but…)

Normally the volunteer that comes with backpack, sleeping bag and hiking boots will fit in the best…
For the short ECS we welcome people with roller bags, nail polish,
But prepare for culture "shock" outside the comfort zone.
We do not accept smokers.
CONTENT (May or Sept (short 30 day) Any profile:
Also see here for possible content long volunteering
The participants will live and work in the same place. They will share a household and cook, bake and clean together. The place is not Swedish, it is a very international place.
It will be a very intense social experience. Meeting the other participants in the workshops, will be a big part of the experience. Very few participants have a desire to have free time for leaving Hästekasen. Hästekasen is the experience. Nature and our fantasy area will be a big part of the experience.

SCHEDULE
20 Days of work and workshops
3 days excursions + cultural night
2 rest days
4 free days
1 Evaluation day

A normal day:
8h sleep
2h household
2h eating
2h free time
2h social games
3-4h workshops
4-5h manual work

Manual work (depending on weather):
– Soil work (making it ready to grow food)
– Harvest and/or food conservation
– Logs and wood work
– Building with clay/straw/wood
– Handicraft
– Care of animals (+maybe a slaughter)

Also:
Sport/adventure
Nature orientation
Survival games
Larp – fantasy games

Workshops (maybe not all) For this we will hire a trainer

Energizers, name games, get to know each other games.
Contact impro movement (getting in contact with our own body) (We have access to a real dance floor)
Forum theatre situations, working with expressions of emotions
Contact impro movement, touching each other respectfully.
Nonviolent communication workshop.
Storytelling as a way of sharing our culture and ourselves.
Lecture and discussion on Cultural understanding.
Intercultural Competence workshop
Dragon dreaming for life/project planning.
Ikigai, find your role in society.
Live action role playing, escapism and exploration of potential selfs.
Open space, participants contributions.
Facilitating and decision making tools.
Team building exercises. Tasks that lead to "chaos", that we evaluate and redo with new attitude and methods.
All these supportive methods are also educational, transmitting new norms. They are also therapeutic, working with body and mind, leading to a higher self understanding and confidence. Everybody have easier to express them self, when feeling like part of a "tribe".
Other factors that create a supportive atmosphere:
We live and have activities in the same place.
The place is secluded.
We share household work. We eat together.
The activities are very diverse, a mix of fun and challenging.
Thorough presentation of each persons life and activities.
Many circle stick rounds.
A feeling of physical and social safety.
All participants are in a new social environment, and can let go of old habits.
STAFF, see PIF

LOGISTICS (see photos):
For the 2020 short term May and Sept we intend to rent a full youth hostel 400 meter (through a forest) to the farm.
The life on the farm offers accommodation in simple structures (huts), or caravans och big military tents with beds in. During short ESC, the accommodation is shared.
The toilets are dry-toilets and there are limited hot showers (there is always a cold shower). We sometimes go to the sea and swim on hot days.
But there are back-up systems if there is a need.

And again, we are an intentional community, meaning we pursue certain values, health being one of them… no smoking and very little meat.

These choices are part of the experience and the non-formal learning and at the end of an activity everybody will understand why. Things like these will be discussed:
– What role can a dry toilet play in saving clean water, bringing back nutrition to the nature, creating new soil, saving energy, transport and money.
– How much and what kind of energy is used creating and transporting food.
– How much and what kind of energy is used to produce heating and hot water.
– How much energy, clean water and land is used to produce meat. What are the meat animals being fed. How are they treated. (Any one wiling to watch a slaughter on the farm, can eat some meat, if they help taking care of the meat and preparing it for cooking).

Hästekasen is a social and adventurous back to nature experience.
Host description/motivation
The host has been active since 2010 and active in Erasmus since 2013. We have had 60+ volunteers and over 250+ Youth exchange participants.
These participants brings enthusiasm, other perspectives and helps maintain and build a community farm.

By sending volunteers to this project you also support ruralisation, the country side and the transition movement. Our lifestyle IS environmental work. The Hästekasen experience is disseminated through our vast network and during all our participations in seminars and conferences.
Our "green" approach is described here
Travel
Landvetter (Gothenburg) is the nearest airport. From there either local cheaper bus (3 euro), or airport bus (10 euro) to Gothenburg central station, after that bus 841 – 1.5 hours to Bokenäs skola, from there pick-up and 5 km to the farm.
Arriving to the airport late in the evening is problematic. Leaving too early in the morning from the airport is problematic.