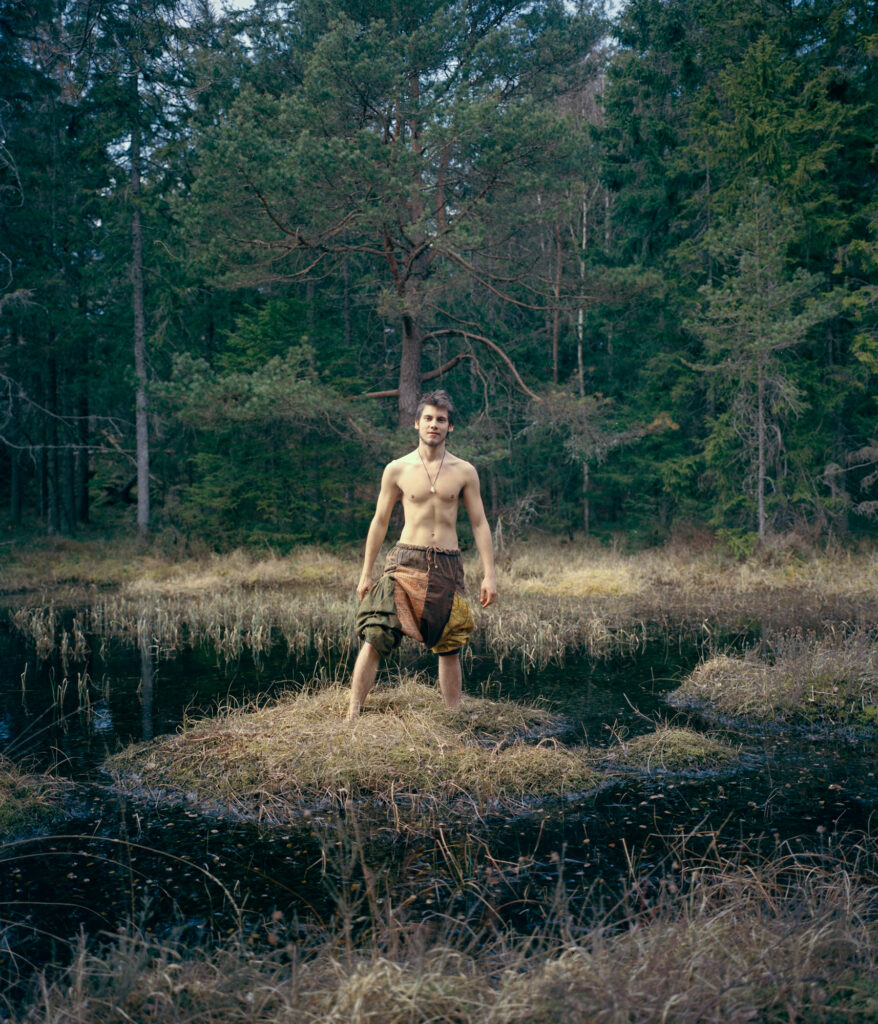 Deutsch
Adventure vacation in Swedish nature (August 2022).
Experience an active outdoor vacation in a secluded forest close to the sea. Participate in community life on our adventure farm in Sweden. You can choose between one week family package and one week adults-only.
You can expect the following activities: canoeing, harvesting (berries, mushrooms, vegetables if available), blacksmithing, swimming, cliff jumping, Yoga & meditation, Sauna, night walk through the forest, handcrafting, drum sessions, fantasy game, dancing, silent walks, orientation training, survival skills and more.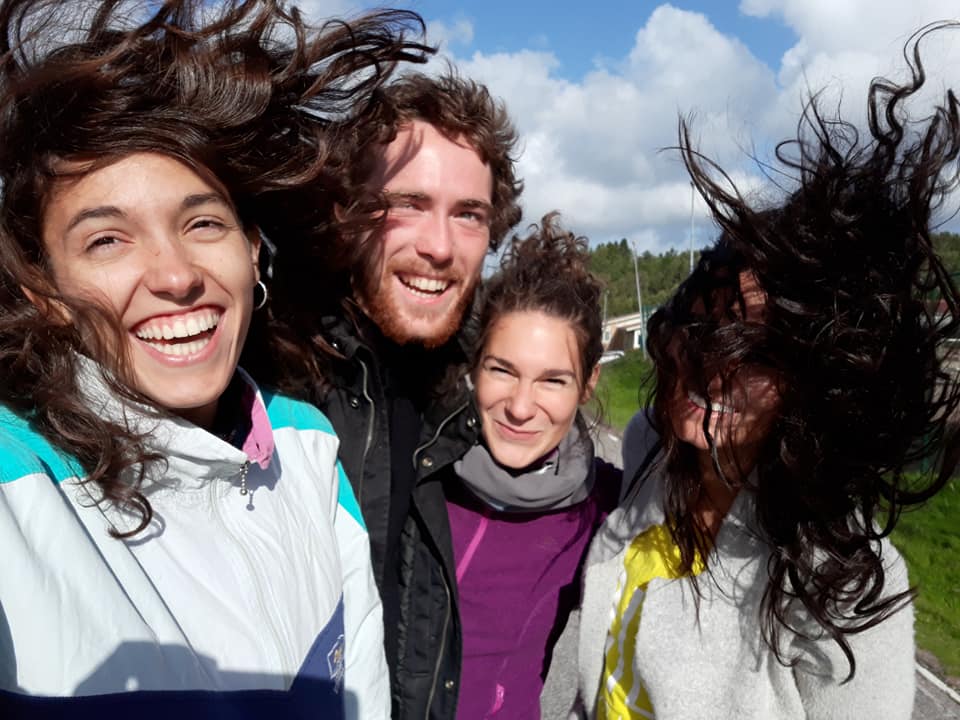 Choose from two dates:
– 1-7 August 2022 (family week with parents and mostly 6-13 year olds)
or…
– 8-14 August 2022 (Adults-only; no children)

Location: 1.5hrs from Gothenburg, on the West coast of Sweden (in the forest and 800m from the sea). Hastekasvagen 6

Sustainability
Prices for 6.5 days*:
Adults: 500€/ 5000SEK (extra for special accommodation).
Children (7-13 years old): 250€/ 2500SEK
Children (3-6 years old): 100€/ 1000SEK
Children (1-2 years old): 0€
*The price includes simple accommodation, 3 meals a day, snacks, activities & workshops.

"Early bird" price: -10% until 30th April 2022 (=450 euro)
Language: English (we also have German, Dutch and Swedish speaking leaders).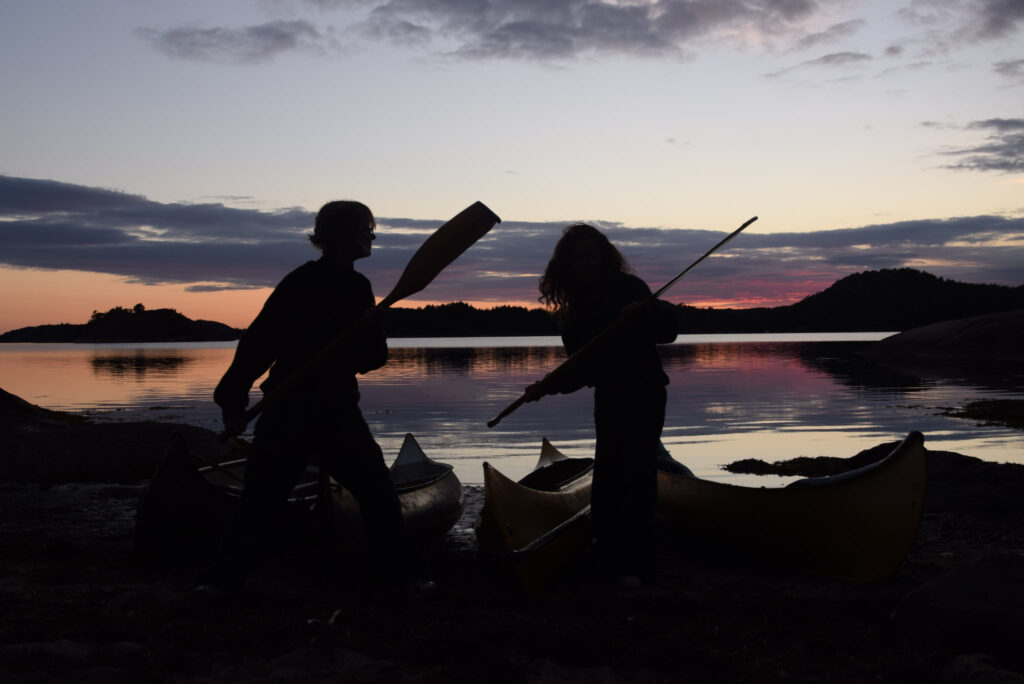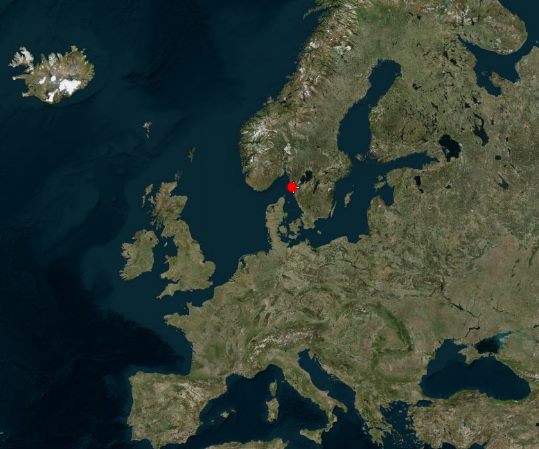 Pictures from the place

Facebook page

Booking information

Booking form





BACKGROUND
Hastekasen farm is a vibrant "eco community" hosting hundreds of people every year. The place is secluded, the lifestyle is simple and the possibilities endless. We are ten members of the Hästekasian community who want to offer a vacation that we ourselves would like to take. The kind of vacation that makes full use of Swedish nature during the peak of summer. We are blessed to be situated in a forest, a walk away from the seaside of the famously scenic Swedish West coast. So, for 2022, we offer a combination of an active, adventurous vacation with canoe trips to a nature reserve, exploring the forest by day and night, and some time to relax by doing Yoga, meditation or creative workshops.
This is a week full of campfires, music, handicrafts, trees and good company.
You will be invited to be very social and creative. You will learn many new things. You may find freedom here. This place is one of a kind.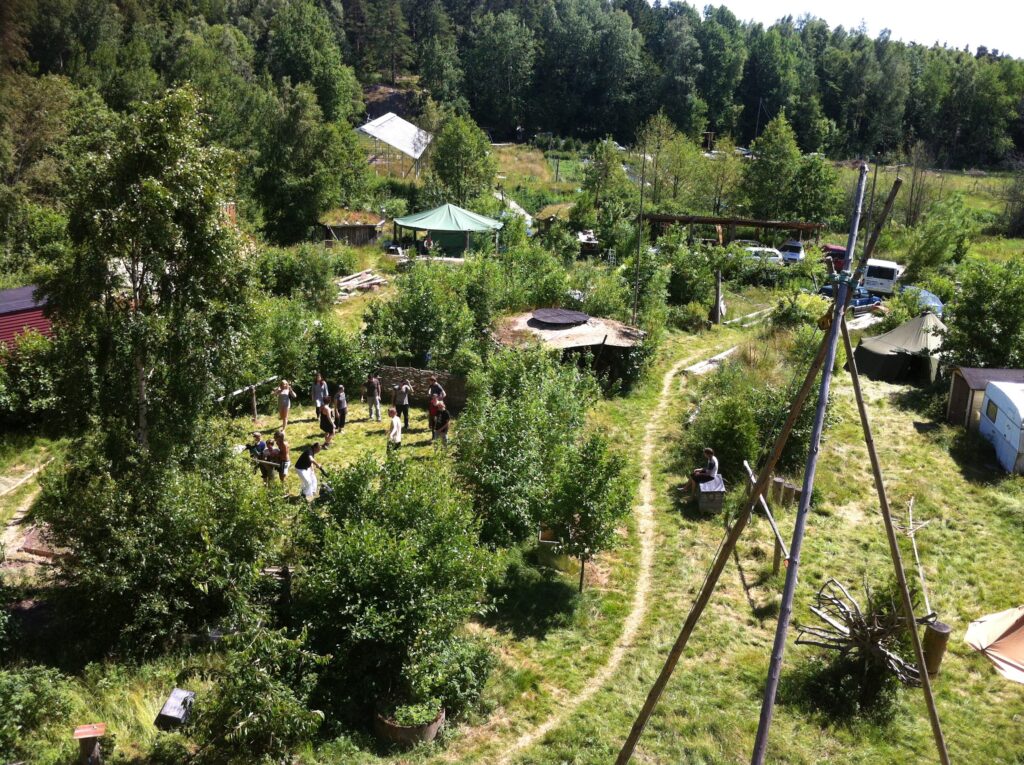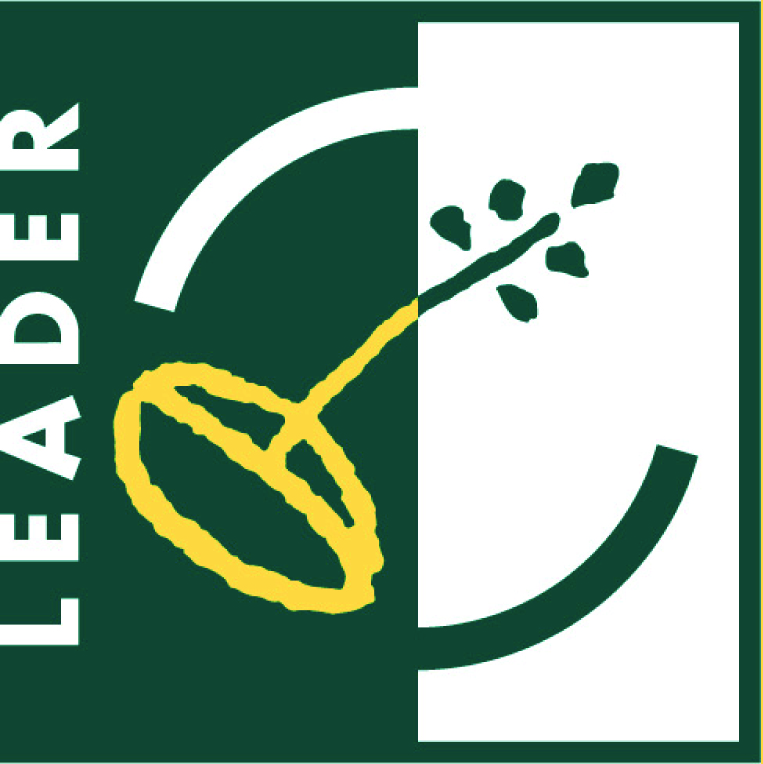 SCHEDULE
(Preliminary, depending on weather)
(Children will sometimes have separate activities)
(All activities are optional)
Day 1: Arrival Day
14:00 – Lunch
15:00 – Presentations + Briefing
16:00 – Tour of the community and the fantasy forest + Swedish fika
18:00 – Walk to the sea
20:00 – Dinner at our tavern
21:00 – Introduction around the campfire; get to know each other
Day 2
07:00 – Silent walk in nature & Yoga in the Viking hall
09:00 – Breakfast
10:00 – Handicraft workshops: pottery, carving, blacksmithing
14:00 – Lunch
16:00 – Orientation activity in the forest (compass and maps) with berry picking and educational nature talks
20:00 – Dinner in the forest with the possibility to sleep there
22:00 – Walk through the magical forest with fire torches

Day 3
09:00 – Breakfast
10:00 – Games in the forest
13:00 – Swimming, relaxing, cliff jumping and picnic at the pebble beach
16:00 – Drumming & rhythm workshop
18:00 – Harvest food in the garden and communal cooking over the fire
20:00 – Dinner
21:00 – Sharing circle by the campfire, and Sauna
Day 4
07:00 – Mini-forest-parcour
09:00 – Breakfast
10:00 – Free time
14:00 – Lunch
16:00 – Medieval fighting (foam weapons)
18:00 – Evening swim
20:00 – Festivities at the tavern, and Sauna
Day 5
07:00 – Meditation and breathing exercises
09:00 – Breakfast
10:00 – Workshop of choice
14:00 – Lunch
15:00 – Canoe trip to nature reserve. campfire, cooking and camping out, maybe canoeing at night with fire torches (dependent on weather)
Day 6
09:00 – Breakfast
10:00 – Nature walk with 5-senses meditation
14:00 – Lunch
16:00 – Ultimate frisbee on the battle field
20:00 – Dinner
21:00 – Evening swim with campfire
22:00 – Festivities! Music, bar, dancing circle
Day 7
09:00 – Breakfast
10:00 – Closing ceremony
14:00 – Lunch
Departure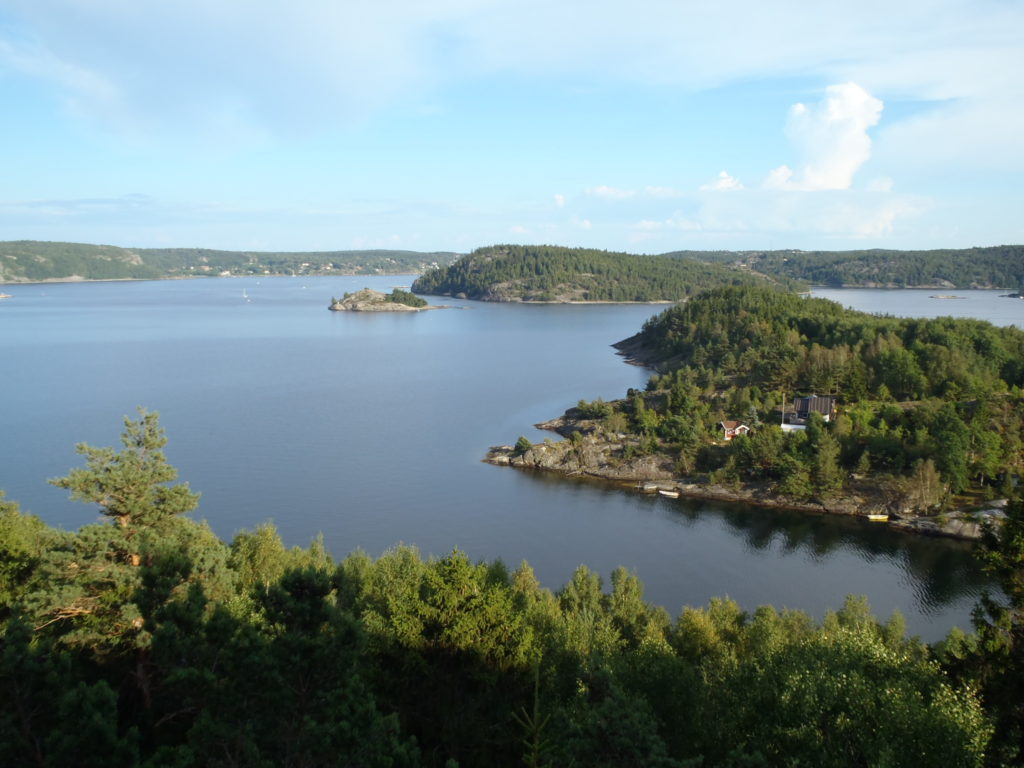 CATERING
You will be served three meals a day; breakfast at 9 am, lunch at 2 pm and dinner at 8 pm. The food will be mainly vegetarian with vegan or other dietary alternatives possible. Local ecological meat will be served on occasion. We also plan to make some meals over the campfire all together!
If you wish to bring your own food, you may use a very simple kitchen during certain hours, but we are not able to reduce the price for this.
Wine and beer are not included in the price but can be purchased here (you may also bring your own).
SLEEPING ARRANGEMENTS
We wish to give you the real experience of what it is like to live in nature. Therefore, you will be accommodated in your private large military tent with beds (a smaller tent for singles or children). For a small extra fee, we also have two small self-built "fantasy" houses and rooms with or without electricity. If you want more privacy, we can also put your camp 100m away from the social area.

Yes, you could camp in your own tent, but unfortunately we can not reduce the price (we do not want to become a camping). Yes, you could come in a camping van, or with a trailer that can be parked 200m away. We will reduce the price by 50€/ 500SEK. (Water is available, but due to the distance, you cannot connect to the electricity.)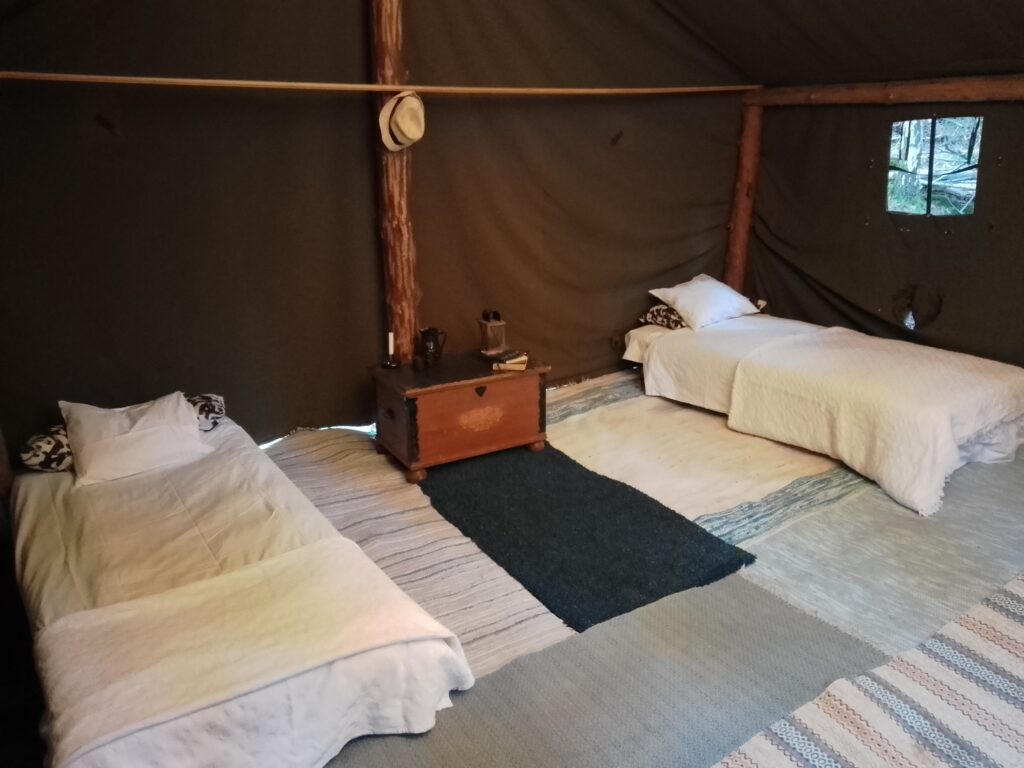 Accommodation possibilities
– Small solo tipi tent with bed in it (-50 €).
– Family military tent with beds in it.
– Family military tent with beds +more standing room (minimum 3 people)
– Family military tent with beds in it (100m away)
– Wind shed with straw and beds

– Room with two beds at the top of the Viking meeting hall (+50 €)
– One bed in a small fantasy house right by the tavern (electricity) (+50 €)
– Picturesque fantasy house, with double bed. (100m) (+50 €)
– Two bed fantasy house in the forest (200m away)
– Shed with double bed and single bed with electricity (outside the fantasy area) (+70 €)
SANITATION
We live connected to nature. This means that there are no flushing toilets. Instead, we have dry toilets of which four are available to you. Showers might be limited due to summertime droughts, so please be prepared for simpler conditions than you might be used to. The sea is only 800m away however, so you can go for a quick dip anytime of the day. We can offer one hot shower every two days.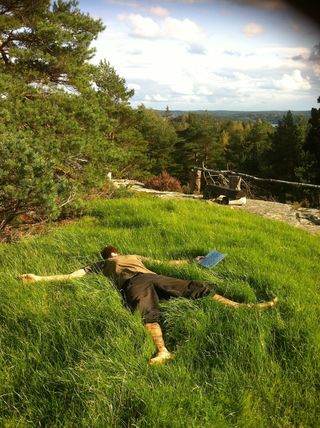 WIFI/ ELECTRICITY
In most places where you will be staying, there are no electric outputs. They can be found in some common areas such as the tavern or Viking Hall. WIFI is limited to certain areas so you can take your digital detox as far as you like!
You will be surrounded by campfires, torches and candles, so it is never dark for too long!

WEATHER
August is warm, with around 21 degrees average (14 at night). The chance of rain lies at 50% (80mm average in August), but we usually experience good weather, with long days and a sea temperature of around 20 degrees.

LOCATION & how to reach us
Address:
Hästekasvägen 6
451 96 Uddevalla
Closest Bus stop: Bokenäs skola, (Uddevalla) (4 km away)
If you wish to travel by plane, Landvetter airport (Gothenburg) is closest. From there you can take the Flybus to Gothenburg central train station and then take the local bus 841 to Bokenäs skola, which should take about 1.5 hours. We can pick you up from Bokenäs skola for a small fee.
Sorry, you cannot come earlier or leave later, as we have new groups coming.
If you have any further questions, do not hesitate to contact us in; English, German, Dutch or Swedish.
Email: info@ hastekasen.se
COVID
We do not demand a vaccine passport. However, an obligatory antigen test will have to be done upon arrival. Should you experience any symptoms prior to arrival, please notify us directly. If you show symptoms during your stay, we will adapt your program so that you may still enjoy the experience while keeping everyone else safe.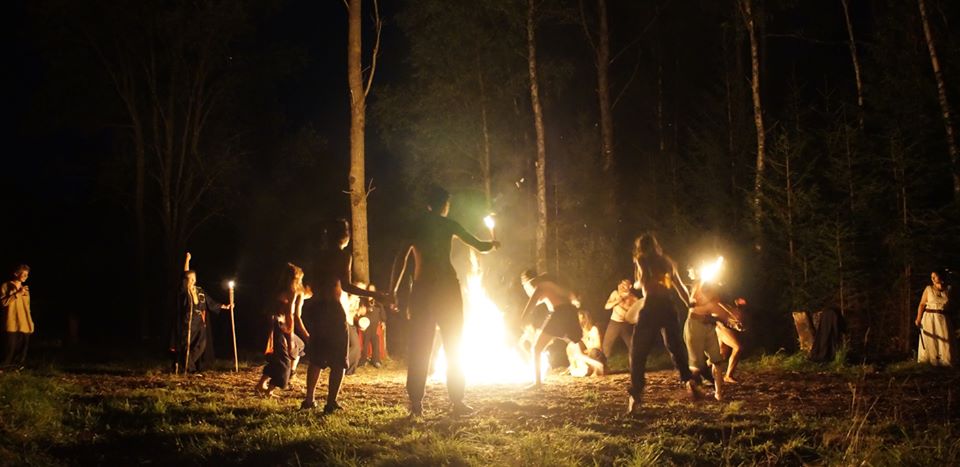 BRING
– Your national health card (blue card)
– Swimsuit, towel, hat
– Head lamp & sleeping bag (if you have them)
– Boots for walking in nature
– Comfortable clothing
– Maybe: Sunscreen, Mosquito and tick repellent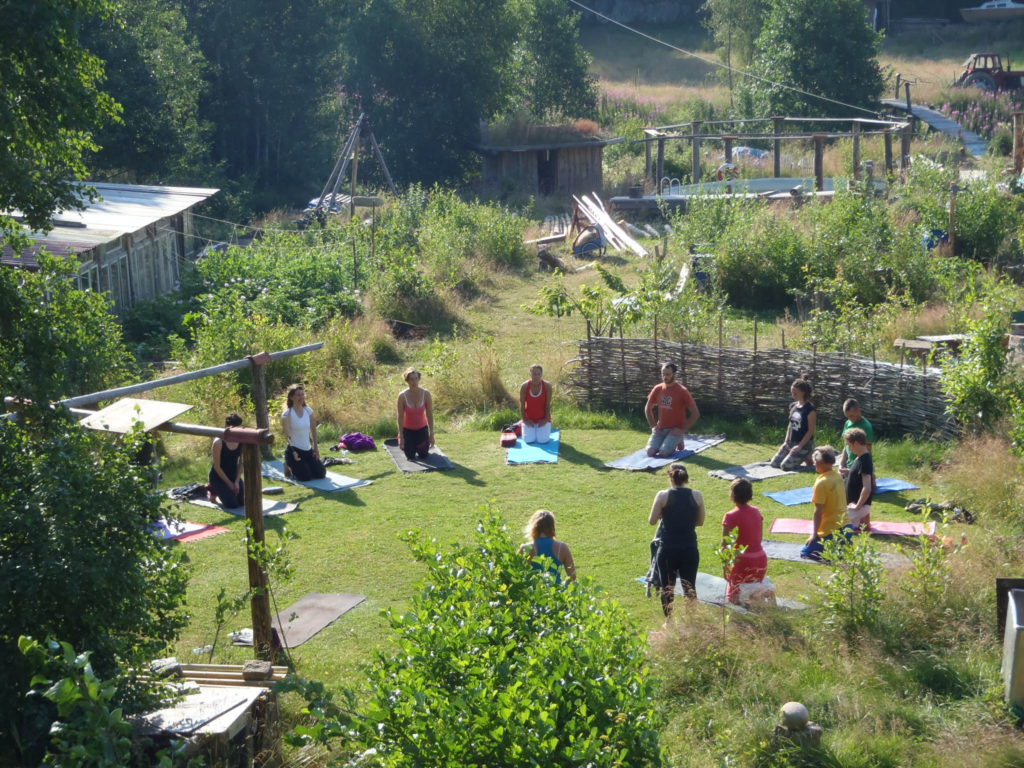 BOOKING
Booking form here
You can make a booking directly via the booking form. There is a 100 € booking fee which is non-refundable. The remainder needs to be paid before July 1st to confirm your booking. Payment can be made via bank transfer.

Cancellation:
The 100 € booking fee is non refundable.
If you cancel before July 1st, we will refund you everything but the booking fee.
If you cancel after July 1st, we will refund you everything but the booking fee, only if we find a replacement.

Bank details:
IBAN: SE23 8000 0835 3500 3813 6313
BIC: SWEDSESS
Accountholder: HASTEKASEN OST AB

BankGiro: 5326-6656
Konto, Swedbank: 8353-5, 3 813 631-3
Swish: 1234998456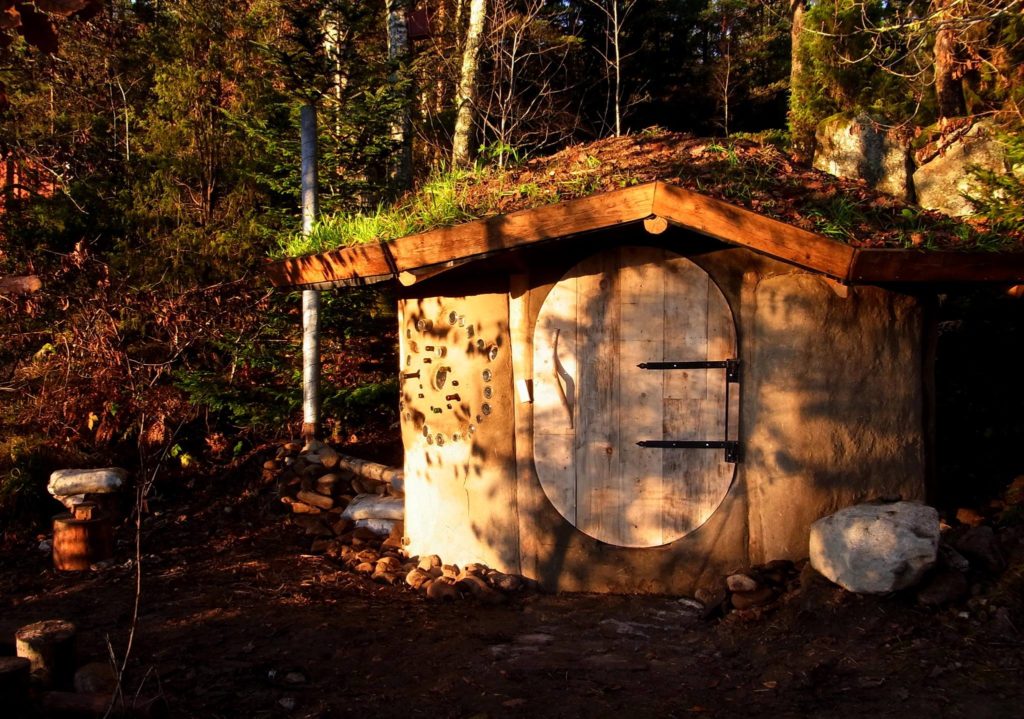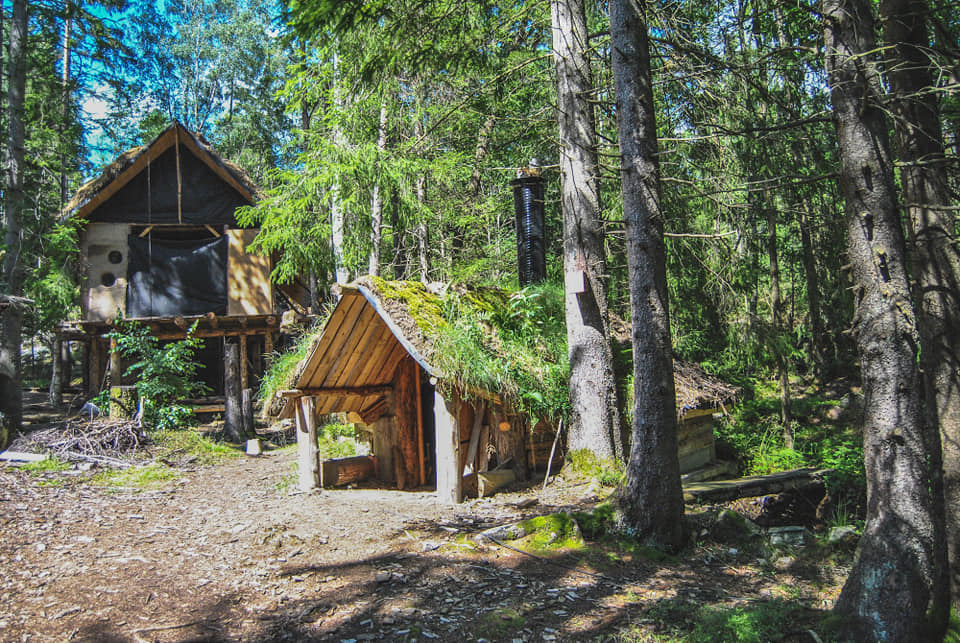 SMOKING, DRUGS & ALCOHOL
We have a zero-tolerance policy for drugs. As this is a non-smoking community, we ask you to smoke in fire-safe areas only and apart from communal areas. Alcohol is allowed but we ask for responsible consumption.

PARKING
You can park your car here free of charge. Be aware that it is a 400m dirt road to get here.

PETS
Both cats and dogs are welcome, but you must take full responsibility for them. Your dog can not run free out of sight (illegal in Sweden). We have our own cats and dogs. Should you be allergic or simply not like pets, this won't be a problem as they are usually restricted to certain areas so that you never need to interact with them.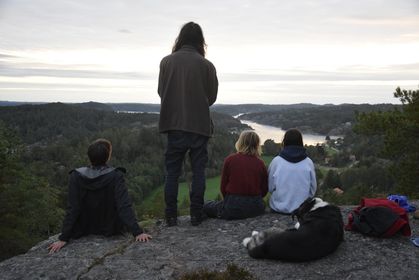 SAFETY
Please keep Covid restrictions and general hygiene practices in mind, to reduce any risk of infection.
Please be aware that we do have some burning jelly fish in the sea and ticks in the forest. As we live here all year around, we are prepared for all kinds of medical emergencies and illnesses.
Important to remember is that nature is wild and small accidents or injuries may occur. We do our best to avoid this of course and create as safe an adventure vacation as possible.
We will run you through our safety protocol upon arrival.
OTHER
If you have the time, we recommend you to explore this region before or after your stay, to see what Sweden has to offer. We will be happy to advise you on where to go!
Also, be prepared that there are no shops around and that both wifi and electricity are limited. We encourage a digital detox – maybe keep your phone in your room.
As we love music and dancing, please bring any instruments you like to play!

Welcome

We are a group of ten members from the Hästekasian community that wanted to offer a vacation that we ourselves would like to have. A vacation that makes full use of Swedish nature on the height of summer. We are blessed to be situated close to a forest, or rather, in a forest, very close to the sea of the famous Swedish west coast. What we offer is an active vacation with adventure walks in wild forest and canoes to a nature reserve, and also swimming and jumping from cliffs. Also some sportive adventurous games. A week with many fires and candles. With music and handicraft. But also calm moments on silent walks, in meditation exercises and yoga. We would like to bring parents and children together with other families on one specialized week. And another week for only adults.