1. What is ESC
2. Erasmus/ESC – Who are we
3. Being a volunteer at Hästekasen
4. Long ESC
5. Team ESC
6. Methods and traditions

EU is putting a huge budget into the Erasmus and European Voluntary Corps (ESC) programs. The purpose is to make EU citizens (especially youth) be able to visit and learn things in other EU countries. And also support local communities and grass root organizations.
In ESC the program covers the cost for travel and food and accommodation and insurance. It lets a person (often with fewer opportunities) live, learn and experience in another European country. Sometimes the countries just outside EU are able to take part as well.
It can be from 14 days up to a full year.
Between the ages of 18 and 30 a person can do:
– One short ESC 14-59 days.
– One long ESC, 2-12 months (the short can only be done before the long)
– And as many Team ESC as they can find.

You must not be 31 years of age when the activity begins.

Some periods Hästekasen farm Association accept applications for "ErasmusPlus European Solidarity Corps – Voluntary System" (ESC). If you are between 18-30 years of age you can spend 1 to 8 months at Hästekasen farm Association (HFA) (certain EU nationals and some neighboring countries).
You will develop competences and support HFA (The alternative farm).
You will get: Free food, free accommodation, and travel expenses (up to a limit) and 150 euro/ month pocket money included.
You will be expected to work 38 hours per week.

Apply here

Hästekasen PIF
Hästekasen Facebook photos
Read about our "green" approach (may not impress you).
Projects/Volunteers of previous projects (you can become one of them).
Project for 2013 – 3 (Zsofie, Elize, Davide)
French project -2 (Laure, Coline)
Project for 2014-2015 – 6 (Kaisa, Fran, Rhiannon, Johanna, Eliott, Mikaela, Stef)
Turkish project – 2 – (Selin, Gulche)
Project 2016-2017 – 8: (Julia, Simon, Martyna, Delphine, Anton, Amen, Grete, Jorge)
French EVS (Adice): – 1 (Laura)
1 months EVS oct 2017- 10:
(Geoffrey, Theresa, Eszti, Cristine, Nat, Natalia, Egelin, Anna, Gisela, Elena)
Project 2018, Long EVS – 6: (Alex, Carina, Kirke, Giacomo, Konstantin, Lillyangela)
French EVS 2018 (Adice & Parcour) – 3: (Nico, Pia, Sami)
Short EVS, July 2018 – 10:
(Brandon, Micha, Michau, Alexandra, Sophie, Helga, Katinka, Clara, Nicolas, Naomi).
Short EVS, Sept 2018 – 10:
(Maite, Gabriel, Dina, Agi, Zorka, Zhenya, Elena, Gabor, Dorota, Geremy)
Other volunteers: Freja, Pieter, Sara, Brownie, Jakob, Nico, Johanna, Åsa, Andrea, Max, Manon, Raphael, Benoit, Clara, Frederike…
Long ESC march-> 2019 – 5: (Edoardo, Michal, Berta, Simon, Clara)
Short EVS, May 2019- 10+1: (Armin, Mateusz, Nicolas, Olga, Dimitrii, Laura, Berta, Amandine, Jean Thomas, Greta, Benjamin (2 months))
Team ESC July 2019 – 11: (Kadri, Miriam, Alba, Lili, Goshia, Maria, Masha, Mina, Chris, Oloph, Leonardo)
Team ESC Sept 2019 – 11+1: (Dilara, Mathias, Mariam, Ruslan, Benjamin (2 months), Romain, Olga, Gerard, Kateryna, Johanna, Giacomo, Matteo)
Team ESC – July 2020 – 11: (Lea, Manuel, Gery, Valentina, Roger, Marlon, Guillem, Anais, Parissa, Luca, Sasha).
Long ESC 2020: (Kinga, Petra, David, Zhenya, Esra, Maggie).
Team ESC – Sept 2020: (Katarzyna, Cecile, Sofia, Thomas, Stacy, Calogero, Melvin, Esra, Jolina, Ceren, Rosa, Maggie)
Team ESC – May 2021: (Malvina, Tomasz, Anna, Csenge, Eo, Natasha, Tara, Zainab, Luis, Hannah, Emma, Bryan, Bernard, Abel)
Long ESC 2021: (Lisa, Luis, Thomas, Adrian, Stacy…).
Our project is very popular, 100´s of people apply.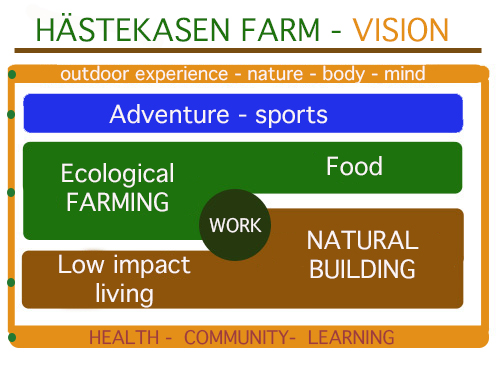 This is the project!
Notice in te picture that WORK is in the center of everything.
Non-formal and Informal learning through practical work.
Qualifications
You need some of these:
Prior experience of practical handy-man work.
Be able to live simple with less comfort.
Initiative and work ethics (activities are obligatory)
Background of economic problems, or social problems, or school problems, emotional problems e t c
These are also good:
Be able to communicate in english.
Planning a future life on the country side.
START
EU projects like these aims to improve THREE entities:
1) Your life
2) The hosting organization (HFA)
3) The European society