Basic idea: to have a group owned sailing boat and sail around the world. Different people jumping on at different passages.
BOAT HAS NOT BEEN BOUGHT YET.
Facebook
CONTENT quick link
Team
Type of boat
Planned Route
Rules and guidelines
Community
Cost of sailing
Investment
Budget
FAQ
Equipment
Initiators declaration
Possible problems
Crew skill development ladder
TEAM
Looking for investors that want to sail parts of the journey and that approve of the basic values/goals of the project.
Big investors (3000-5000 euro):
1) Hastekasen farm association
2) Anthony Synott
3) Jakob Synott
4) Maciek Tajduś
5)

Small investors (1500-3000 euro):
1) Sebastian Naslund
2) Tim Olson
3) Jacob Johansson
4) Lars de Wilde
5) Filip Schagatay
6) Max Lindqvist
7) Melvin Kaczmarczyk
8) Piotrek Warzyszynski
9) Patrycja Gas
10) Axel
11) Sixten
12) Eda
13) Matiec
14) Possible: Rolf L
15)

Interested:
– FFA Berlin NGO: available as paying crew / rent the boat for projects.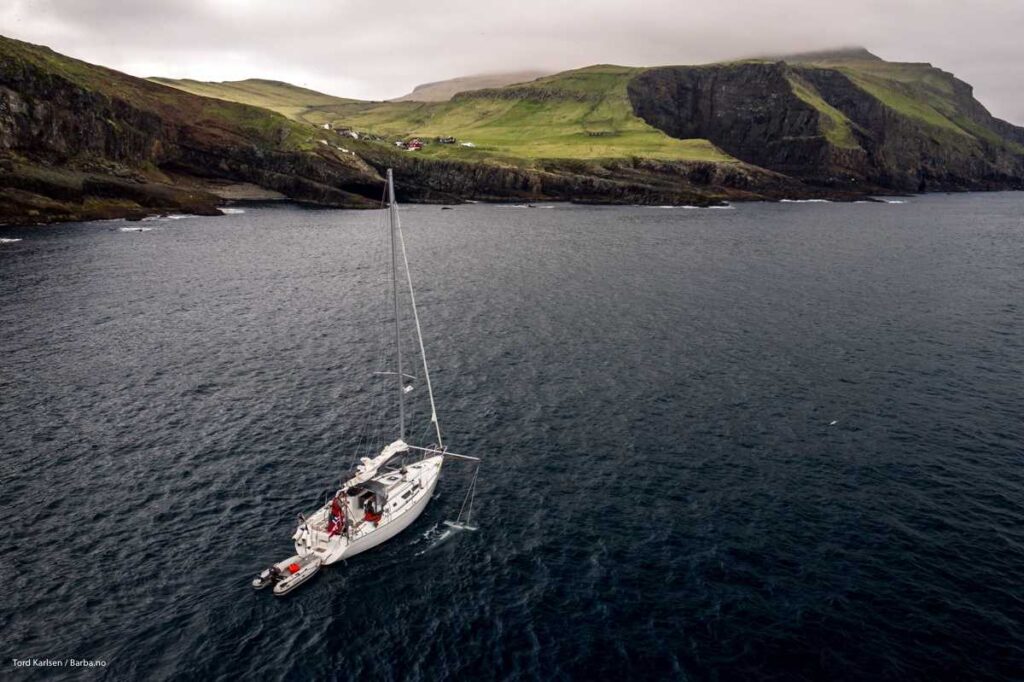 Type of boat
Type of boat (also see equipment list below)
40-50 foot
6-8 berths
Glassfiber or metal
Mono or catamaran
Long keel preferred.
Maybe one of a kind and some personality. Maybe wait for a bargain that need some repair. Maybe use 30.000 on the boat and the rest for preparing it.

Standard of equipment (see priority list).
We will focus on the essentials… anchor, chain, sails e t c (meaning comfort will be down prioritized to keep the budget low)
Boat will have AIS and life raft.
Avoid too many things that can break. Especially electronics.
A crew or investor are free to buy on their own expense and bring extra equipment (electronics) that does not need any major installing/attaching.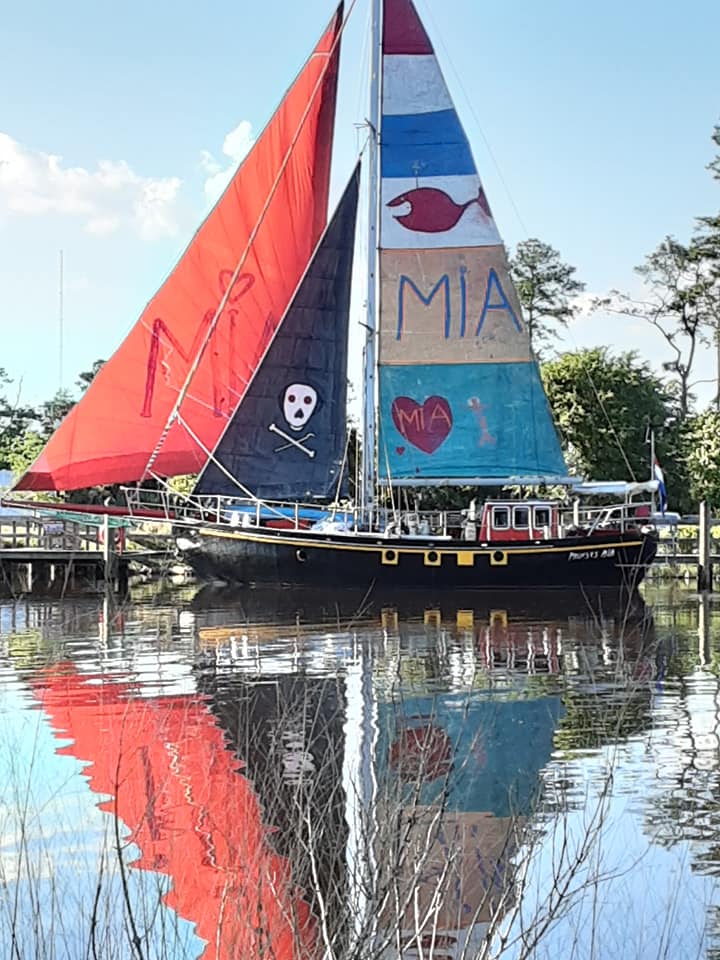 Planned route
Plans with the boat (route)
We will look for both paradise sailing and also more rough expedition sailing.
At some points we will leave the beaten track, but all destinations will be well researched.
Check map for summer 1 and 2 and 3 plans.
Possible first year 2023.
Further route: Atlantic, Pacific, Indian ocean.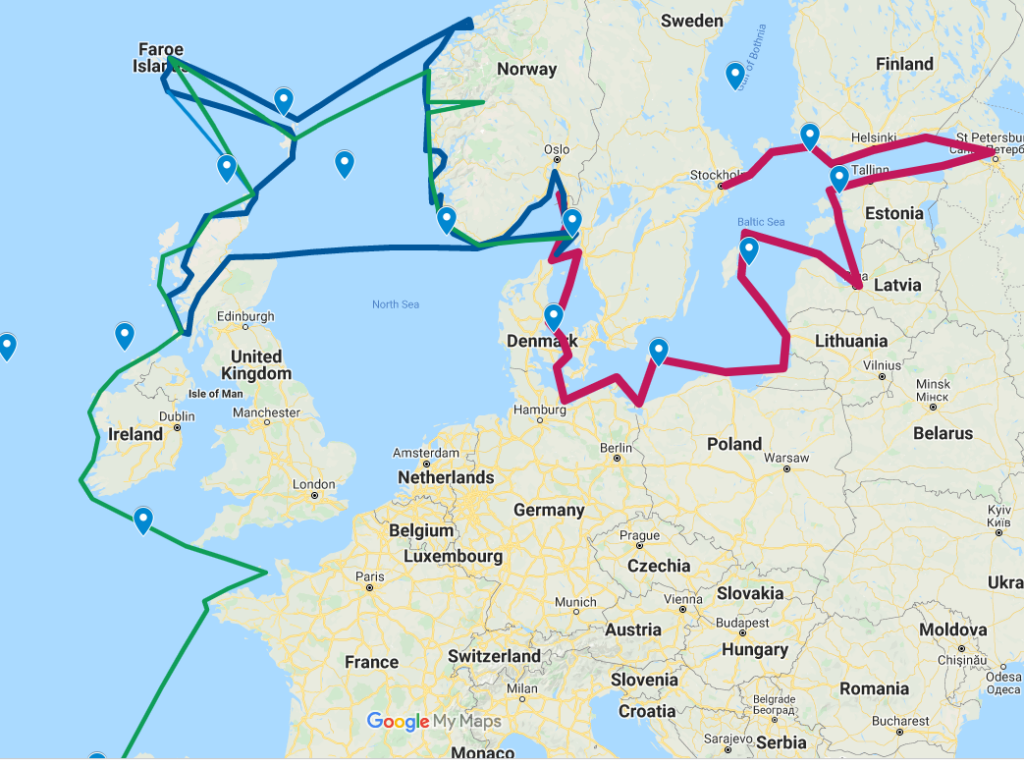 Rules and guidelines
Basic not changeable rules:
Main language English
Home flag: Swedish
This is a low budget project.
Boat will not be insured (too expensive) Third liability yes.
Boat will have AIS and life raft.
NO DRUGS! (no marihuana will ever be smoked or stored onboard).
Zero tolerance to: sexism, racism, aggressiveness, risky behavior (putting others life in danger), extremism (but that does not mean we are main stream)
At sea… captains word is law.
Investors select captain.
Captain and investors select paying crew (if needed)
Guidelines:
Boat will strive to have minimum one person onboard 24/7/365.
Boat will strive to always have an investor onboard.
Paying crew may be welcome.
As a small investor you can not expect to be able to be onboard all the time.
We are looking for investors that wants to be onboard a few months here and there.
Community
Community style:
Mixed ages / genders.
From one perspective this may be seen as a hippie project, but not really.
Yes there will be party and music and dancing on the deck in harbors.
But it will be a "tight ship" meaning safety of vessel of crew comes first.
Zero tolerance to illegal drugs.
We will look for both paradise sailing and also more rough expedition sailing (check proposed routes)
At some points we will leave the beaten track, but all destinations will be well researched.
Nature lovers welcome. Music and adventure sport people welcome.
To fit in you must also enjoy BEING at sea.
Food will be basic (to keep costs down) (but crew may add private food/drinks)
Lots of vegetarian as base food, but meat is allowed.
Zero tolerance to: sexism, racism, aggressiveness, risky behavior (putting others life in danger), extremism (but that does not mean we are main stream).
No alcohol while at sea (exception for extraordinary situations; captains discretion).
Hygiene and healthy living promoted (Preferably no smokers).
Take responsibility for your own actions.
Community decisions (and investor decisions) will have to be followed by crew.

Living on a boat is like camping together in the same tent. We will most likely not accept an investor that we have not met in person. You are welcome to visit the community Hastekasen Adventure farm in Sweden and introduce yourself.
Cost to sail
Cost to sail / What do we get for the investment?
– Passenger: 30 euro a day.
– Paying crew 600 euro a month (incl food, but excluding diesel and marina costs) (+ return ticket fee as deposition) + basic chores and maintenance work. (We expect everybody to be part of paying the cost of the vessels cost as it looses value over the years).
– We may charge less (maybe 400 euro) for the second and following months.
– Most likely the paying crew is not needed to "drive" the boat, there will be experienced crew / owners onboard that can do this, the paying/guest crew will benefit from being trained in "blue water cruising".

Certain popular passages may have a extra fee (+15%?), like Atlantic crossing where you save the flight ticket.

Comment on paying crew costs:
A cheap hostel would cost 10 euro a day, cheap food maybe 7 euro a day, travelling from one country to another could cost 100 euro. Excursions and adventure at sea and land where no normal tourists can access, cost: ?
This is to say: 600 euro a month is cheap.

Cost for investors to sail per month:
Running costs (administrative, maintenance, value loss e t c) (incl basic food*, but excluding diesel and marina costs) + basic chores and maintenance work)
10% = 120 euro
9% = 145 euro
8% = 170 euro
7% = 205 euro
6% = 230 euro
5% = 255 euro
4% = 280 euro
3% = 305 euro

(These numbers may have to be changed based on the projects finances)
* Basic food may mean: no meat, fish, alcohol, juices, exotic (expensive food) …. just basic. May have to be adjusted according to special circumstances (local food prices)

Possible low fee for essential crew (probably just captain and a much needed skill, like mechanic e t c) + basic chores and maintenance work.
– There is also the possibility to do maintenance work on the boat and earn free sailing days.

Resources needed to run the ship:
– Assuming an old ship will last 10 years we will see a basic value loss of 300-500 euro a month.
– Maintenance/repair and fixed expenses: Can be as much as 500 euro a month.
– Cost of household, port fees, fuel, food

– Maintenance and repair work
– Sailing and navigation and running the household
– Deckhand, shifts at the helm and taking part in the household
How to invest
Investments:
Minimum 1500 euro (Small ownersx20 = 30.000)
Max investment 10% of total (Big owners 5×5000=25.000)
Budget 55.000 euro
Max owners 25
Minimum owners 10
Investments should be done before the end of 2022.
Buy boat winter 2022.
Investors joining after the risky investment phase will be asked to pay 20% extra (+20% on the minimum 3% investment), that will not give voting power above 3%.
How to invest
If you are approved as a partner… be ready to invest any time during 2022.
We may ask you to pay in a first part as a sign of commitment, maybe 500 euro. The money will be kept at Hastekasen farm Association account.
Accounting will initially be done by "Hastekasen farm association" (HFA), but soon be done through a new association (or share holding company) with its own bank account.
(HFA is a 10 year old NGO with sound finances).
You are not a full partner until you invested…
Once you paid your are committed, if you want to change your mind you will later be able to sell your share to a person that the other partners accept. The value of the new share will be decided by the partners and based on the value of the boat.
How we buy the boat
We may want to act quickly on a bargain.
We may have to use investor money on flying a person to investigate a boat and then buying it and sailing it to Sweden for further re-fit.
The boat may be in Stockholm during the first year/winter where one person could live on it (save money, and get a care taker) and it may be repaired.
Since it is a big boat there will always be berths free while stationary (winter) and investors can use the boat for sleeping in where ever the boat may be.
Who decides:
The project will be governed by investors according to voting power based on investment.
BUT there will be certain rules set as constitutional and will not change regardless of what investors vote.
If wanting to change these base rules investors not agreeing have a right to be bought out first.
The boat may be governed as a share holding company, aiming for profit.
Accountability:
SUGGESTION not decided: If boat sinks burns e t c: the responsible will be held accountable (by law).
Secondary: all investors onboard are accountable to all other owners up to 50% of the boat value (the rest will be seen as lost).
Example: If the captain/crew took a stupid decision that led to the destruction of the boat… the investors onboard will be held economically accountable… they had the chance and the power to intervene, but did not. (This will make investors onboard feel pressure to be careful with the boat).
Force majeure is another issue. Only owners that was not onboard can grant "force majeure".
Budget
Expenses:
– Administrative running costs (incl marina fee)(Bank and accountancy, registration may cost 500-600 a year).
(third liability insurance)
– Boat maintenance running costs (in port and at sea)
– Costs during sailing (fuel, marina fees, direct repairs)

Income
Sailing fees for:
– Paying crew
– Paying crew daysail
– Small investors
– Big investors
– Possible EU projects

Cost of maintenance e t c
There will be lots of work done on volunteer basis, by share holders and others, BUT we will mostly set up a system where those that work for the project are rewarded.
There will if needed be a annual fee (administrative running costs), based on share.
We will try to have the running costs covered by the actual sailing fees, but investors are in the end responsible for costs according to share.
FAQ
How much can I sail?
– There is more or less 72 sailing months available every year (6 berths x 12 months. A big investor that has 10% share will be able to sail 7 months a year. A small investor 3% will be able to sail 2 months a year. But these numbers may likely increase.
Who maintains the boat?
Crew.
-> Investors are ultimately responsible.
-> Bigger haul outs /maintenance can personal be paid for.
Where does it moor over winter?
Possibly:
-> Year 1: Stockholm
-> Year 2: Private harbor of one of the investors (west coast Sweden)
-> year 3: Private harbor of one of the investors (west coast Sweden)
after that go south and just keep going 🙂
Who makes executive decisions?
-> Investors
What about insurance
-> Only third liability
And tax?
-> None in Sweden
What flag does it fly under?
-> Kingdom of glorious Sweden, descendants of Vikings.
Equipment
What kind of boat and how much equipment.

The whole group should have a similar target.

We will "make do with less".
Shareholders should not be forced out because others want to invest a lot in more equipment.
We don't want to have lots of things that can break (many users usually leads to things breaking).
We will prioritize the essentials. If people want more comfort it is OK, but everybody should not be forced to invest in this.
The more crew, the more skills – the less equipment is needed.
Below is what is a priority list (top down)

First:
Hull of fiberglass or steel.
40-50 foot monohull, preferable long keel.
30-40 foot katamaran
Strong hull and hatches (bow can be reinforced, perhaps waterproof bulkhead) (burglar-proof)
Strong rudder (material for emergency rudders)
Strong rig (wires may need to be replaced)
Watertight deck (not so common on old boats)
Doghouse (don´t leave land without it)
Lots of sails, for lots of different winds (incl. Sea anchors)
100+ meters chain, 300 meters anchor line, 4 anchors
Toilet with tank. Stainless.
Diesel/gas kitchen.

Possibly wood stove as backup (and gas)
Solar cell electricity used for: (order of priority):
GPS, Lanterns, compass lights, VHF, Light in the galley LED, music, computers / phones, Deck lights, headlights, refrigerator.
Roller reefing (painful without, but expensive as hell)
Safe main compass.
GPS 2 pcs
Overview charts, paper
Diesel engine (lots with spare parts) Preferably fresh water cooled (fuel filter)
Diesel tanks (300-500) liters.
Strong bilge pump (two electric, one manual), fire extinguisher 3-4 pcs
Hard dinghy sailable / rowable unsinkable (probably a rubber as backup)
VHF stationary (and at least one handheld)
Computer with nautical chart (maybe one adapted for salt / water)
Expensive life jackets, with strobe light and whistle.
Locator beacon / buoy
Medical articles (medicines) (dental care)
Life raft (cheapest) (the dinghy should act as a life raft as well)
Extra large battery bank
Radio receiver (with antenna in the mast)
Tools (well selected)
Lock (extremely strong, also to be able to lock from the inside)
Anchor winch (good manual)
Deluxe ventilation
Targa bow
Epirb, AIS
Electrical tools (welding?)
Depth gauge
Bow spread (improves the sailing properties)
Two water tanks, stainless steel for a total of at least 500 liters, manual foot pump

This below may be down prioritized
Outboard (smaller, not for plaining)
Fridge (costs a lot of power)
Satellite phone
Some form of tracker (position broadcast)
Radar transponder
Wind pilot (expensive but convenient)
Heater diesel (also wood burning)
More spare parts for everything above
Radar (unnecessary luxury, makes people lazy and weak)
Mast steps
Tires
Lifting arm (for free diving, loading dinghy)
Wind generator
Autopilot electricity (unnecessary luxury, makes people lazy and weak)
Electric generator (petrol) To be able to operate machines
Extra Outboard, smaller
Sewing machine
Similar project
http://karaka.org/?fbclid=IwAR0AjNFhXqhtk_O_MyG4zcjxVDGbhOGMs34xp0GU2-ngZKxeTC2avZRFJZ8
Initiators declaration
Letter from Sebastian – one of the initiators of this idea:
Why buy a boat and explore the world. Why do it as a group?
In the center of the idea we find the common ownership = many owners. The aim with this is:
1) We can afford a boat
2) We will all be more committed and responsible since we are owners
3) Its more fun to share experiences.
4) We share risks.
The sailing may come to resemble Hastekasen Farm association: lots of freedom, creativity, chaos, socially intense, nature experience and demanding, but oh so rewarding.
Owning a boat and sailing it is lots of problems and very few romantic magical moments, but when those moments come they make all the struggle worth it.
And the struggle itself is also character shaping. If you can handle boat ownership and sailing you are indeed an "ubermensch".
The idea has been with me for many years… it got a little spin off when I helped Jakob buy a boat and he sailed it to Ireland and the Med. After that we spoke of buying a bigger boat with more people onboard. Do it again, and do it better.
Let me tell you my personal motivation and if you click with many of them, that means you may fit in this project
1) A boat is a cool independent way of travelling, you have a bed, a kitchen and you don´t have to carry your backpack.
2) You move from place to place without flying and or have to pay for flight.
3) It is adventurous, you feel like an explorer.
4) You can reach places that others can not reach.
5) You can buy things where they are cheap and store them onboard (food)
6) You get totally unique nature experiences at sea and close to coasts.
7) Many share holders means not one person can take some radical decisions, it will be a group that votes about certain decisions.
8) A group means the individual can relax, the risk is shared.
9) With many owners we will always be able to have a full crew.
10) With many owners one does not have to be onboard all the time.
11) Many people onboard means a stronger social experience, safer sailing, better parties, more activities.
12) I want to do it low budget, because sailing can be extremely expensive, and boats can be lost (fire sinking theft) and I don´t want to loose too much money if it happens.
13) I am open for letting organizational owners use the boat for projects and thus make the boat earn money that will benefit individual owners.
14) I don´t want or be the owner of a lame boat – a simple Beneteau or likewise – I want the boat to look unique with a personality – because we will meet more people if we have such a boat (trust me https://vimeo.com/user46387465)
I want to experience the following:
Anchor at freediving spots, warm, clear, deep water.
I want to spot sea mammals, maybe dive with them
I want to experience calms at sea, maybe for many days
I wanna drink red wine and discuss things in the cockpit while at anchor
I want to train people to become good sailors, first mates, and "captains".
I want to go off the beaten track and out of season = cheaper, more romantic, but also more dangerous.
I want to sail Scotland, Irish west coast, visit scilly´s, Azores, Faroe islands, I want to cross the pacific, I like New zealand, I want to sail in Sulawesi.
(YOU should make your own list and show the rest if you get involved)
The idea of having the boat in Europe for a few seasons is so that:
We can try out the boat
We can learn to sail (create sailors)
We can have a quick flow of crew, easier access for shorter sails
We can use it for possible funding projects
The ultimate goal is to sail the boat around the world.
If we take care of the boat it can just keep going. round and round again.
Sebastian
https://vimeo.com/user46387465
Possible problems
Careless (inexperienced) captain onboard and boat is lost (fire, theft, sinking).
Careless (inexperienced) crew doing stupid stuff with drugs or alcohol in their body.
Lazy crew and the boat deteriorating to standard when it is dangerous (a boat can sink even in the harbor).
Getting way more expensive than planned.
World getting more closed due to pandemics and also blocking sailors.
Quarrels (that we can solve) but during the process it is pest to be onboard.
Someone falling overboard and dying, someone getting severely hurt.
Conflict between owners that wants to be in harbor and those that wants to be at sea.
Sailing in poor countries – is always problematic when you are rich.
The black Swan/s
The world is constantly changing. How will it look in 10 years. How will travelling be 2035?
Right now 2021 covid has more all less closed down blue water sailing in Asia. Countries are closed, also for boats.

As climate change damage ecosystems, economy will fail along side. Where economy fail – criminality increases. The sea is sometimes lawless land – A few guys with guns and fuel to an outboard can travel 100 miles in a few hours in high speed fairly simple boats. Yachts are fruits that can be picked. Not even cargo ships can defend themselves generally.

Where can one sail?
Crew skill development ladder
Skill/level
Blue water cruising education system
During 2022-2023 we need to create: 12+ experienced crew, 7+ first mates, 3+ engineers, 4+ captains, 3+ Class8 captains. And reach 10-25 owners

Trainer Captain NM 10.000
Captain ocean (incl crossing) NM 7000
Captain (incl class VIII)
Captain (only owners) Master of vessel
NM 5000
5 day crossing
Tidal waters
No engine maneuvering
"No-no-certificate"
Abandon ship training
M-O-B night
Aspiring Captain

Trainer First mate NM 3000 (only owners) First officer
First mate (could be member, but preferably owner)
NM 2000
Leadership
2nd gale experience
3-day crossing
No GPS navigation
M-O-B retrieval organizing
Advanced maneuvering
Harbor maneuvering
Currents maneuvering and navigation
Navigation advanced (incl night)
Advanced engine
Advanced maintenance
Advanced anchor
Basic electrics
Radio
Aspiring First mate (Cadet)

Trainer of Engine mechanic. Chief engineer
Mechanic (could be member or owner)
Outboard engine
Diesel engine
Electrics
Aspiring Mechanic

Chief Administrator (only owners) (probably on land)
Administrator HR (only owners) (on land or onboard)
Equipment scout – look for and buy cheap 2nd hand.
Marketing chief (social media)
Passage and port researchers:
What is the available route ahead, which are the best ports.
Anchor/mooring, costs, diesel, water, shopping, nature, sightseeing, visit projects, distance, safety, weather, laws.

Social host officer
NVC and similar skills
Celebration and team builder

Master cook (could be member, but preferably owner)
Running the household, including kitchen economy
Aspiring Master cook
Chief Cook
Cook in all weathers, main responsible for kitchen.

Trainer of Experienced Crew NM 1500 (Deck cadet)
Experienced Crew (could be member or owner)
NM 1000
24 hour sail
Gales experience
Mast climber
Basic engine
More navigation
Basic hull cleaning
Basic anchor
Night watch helmsman
M-O-B retrieval
GPS navigation
Advanced ship orientation
Aspiring Experienced Crew

Trainer of Crew NM 800
Helmsman crew (could be member or owner)
(all owners should reach this level)
NM 600
Basic navigation
Basic helmsman

Crew (could be member or owner)
NM 500
20 knot wind
Maintenance
Cook a sea
Basic VHF
Anchor watch
Hand on deck
M-O-B / swimming
Basic ship orientation
Aspiring Crew

Guest crew (paying/working crew) (also member)

Passenger
Land lubber (a person while being on a boat is a danger to themselves and others)

Owner
Member
Supporter

How to contribute?

Can you invest? Good, at this stage we are mainly looking for investors.

Are you a "handyman"? Good, initially (and all the time) we will need practical people that can do carpentry and metal works and canvas works. And especially we need people that can repair engines.

Can you sail and know how to run a ship? Good, but this is not what we need initially, but in the long run we need a high level of skill of all owners.

Other things you can do, if you can not sail, can not build…
– Find other investors. Marketing.
– Learn navigation (use online resources). Life can depend on it.
– Learn your knots. In darkness, half asleep, under stress: your knots must be fast and safe. Life can depend on it.
– Start interacting with blue water sailors online. Make friendships. We will need that network. People with skills and local knowledge.
– Start reading and watching films online – understand what blue water sailing is. Study worst case scenarios.
– Start researching places and routes to sail to: using local knowledge from other experienced sailors.
– Look for new ESC volunteers that could be interested in this project, or in sailing, or live in a place where we might want to visit one day…

… There is actually a lot to do already.
Filip Schagatay Filip_schagatay@msn.com
Jacoppen00 Jacoppen00@hotmail.com
Melvin Kaczmarczyk melvinkaczmarczyk@freenet.de
Jakob Synott jakob.synott@gmail.com
Piotrek Warzyszyński piotr.warzyszynski@fahrten-ferne-abenteuer.de
Patrycja Paula Gas patrycja@nausika.eu
Larsdew larsdew@live.nl
Tim Olsson tim@socialsystems.io
Filip Schagatay Filip_schagatay@msn.com
Maxlindqvist614@gmail.com
Anthony, hank.synott@gmail.com

Investor levels:
Lars 2000-2500
Seb 1500-3000
Jakob 3000-5000
Anthony 5000 (+lend 5000)
Melvin 1500
Jacob 3000 (or go up to 5000 late 2022)
Piotrek 3000
Max 2000
Tim 1500
Filip 1500
HFA (org) 5000 (+lend 5000)
Pati 1500
Matiec 3000+
(Rolf) 1500
Axel 1500 later
Sixten 1500 later
Eda later 1500 later
= 43.500 + 10.000 = ca 50.000

DECISIONS
LOOK FOR MORE INVESTORS
– New members / investors, approved by the group.
– Maximum ownership 10% (Minimum investment 1500 euro)
– Dealbreaker – Filip wants insurance. Many good arguments for that added cost.
Someone need to investigate our alternatives.
– The responsibility – liability issue has to be discussed (insurance may solve some of it).
– Dealbreaker – Jakob – Boat has to be of a certain functional standard (not a "wreck")
– More people more reluctant to steel.
– E-mail is the official contact method for important things. Whats app for fast communication (Lars).
One humman one vote?
Vote according to shares?
Different voting system in different situations?
BOAT
Long keel or at least a sturdy keel. Seaworthiness.
Not too heavy < 20 ton?
Any rig.
40-50 foot
We will most likely invest or build wind vane (certain passages could invest in autopilot (electric))
Bowsprit and doghouse is good.
Maybe go beyond 50.000 euro